Stephanie Thatenhorst recently showed how a new building can be given monochrome-minimalist coziness in Schwabing. The result not only looks inviting, it also feels cozy thanks to contemporary natural materials from wooden floors to clay plaster ceilings, leaving room for art highlights and the usual life.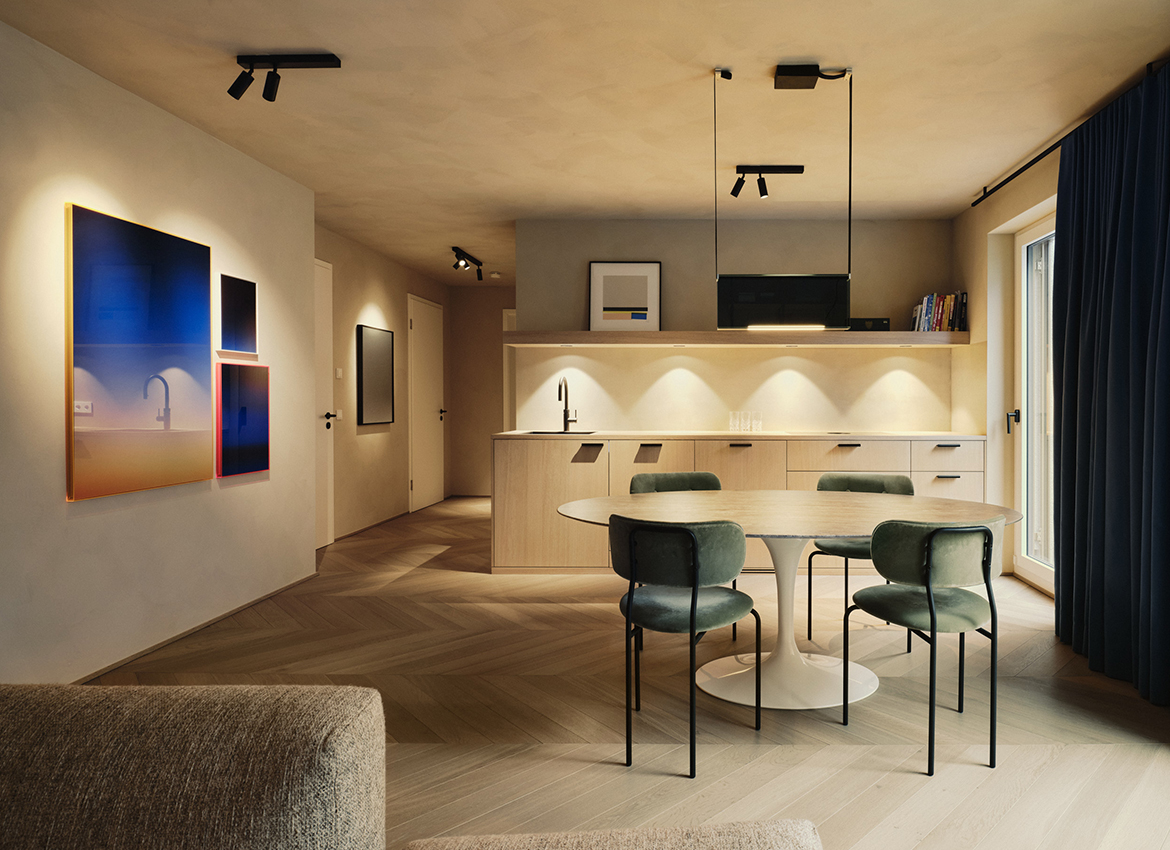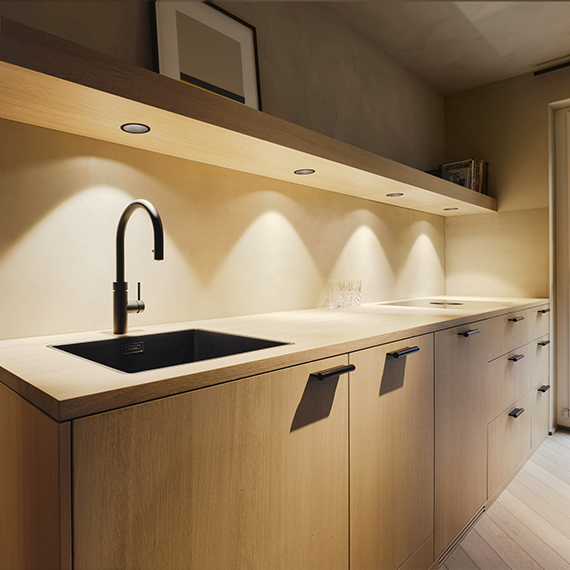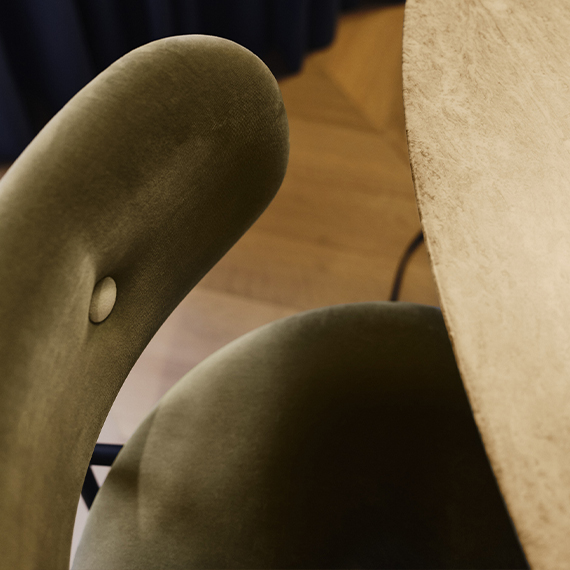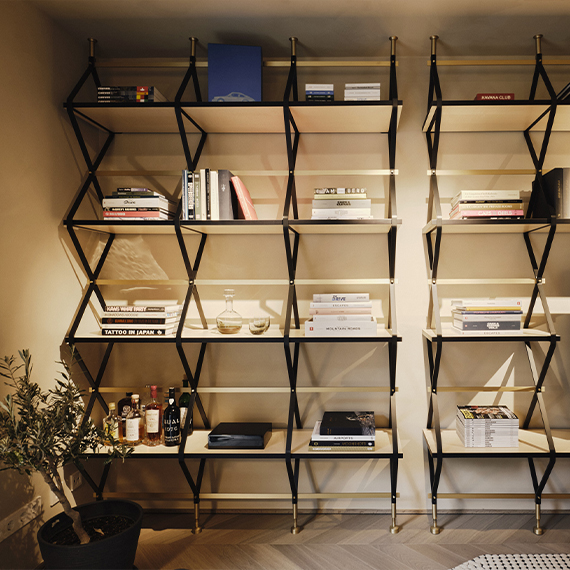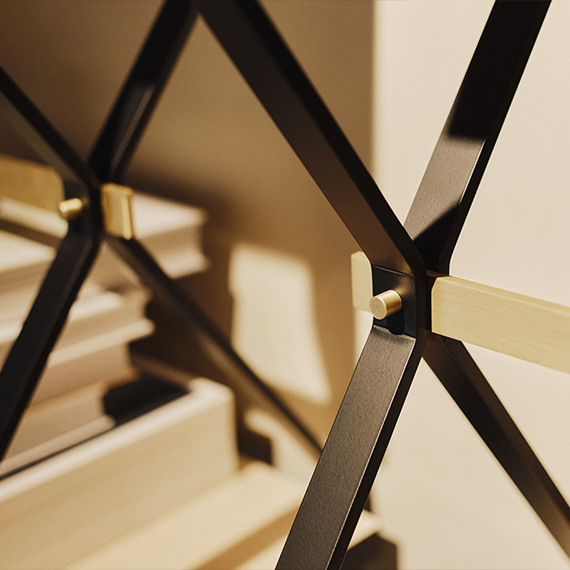 New natural look
Clay plaster is THE material for a modern, comfortable look, because the moisture- and odor-regulating building material also scores with its natural feel and soft color. The latter runs through the object as a soft focus. For example, in the form of the herringbone parquet flooring and the custom-made carpenter's kitchen made of limed oak, which does without wall cabinets and visually widens the open living area. The masculine lamp (Lambert et Fils), the custom upholstered chairs covered in reed-colored velvet (Gubi) and the diamond-shaped shelf with book collection (Pietro Russo) contrast the look.
Includes 19% MwSt. DE

Delivery Time: 8-12 Weeks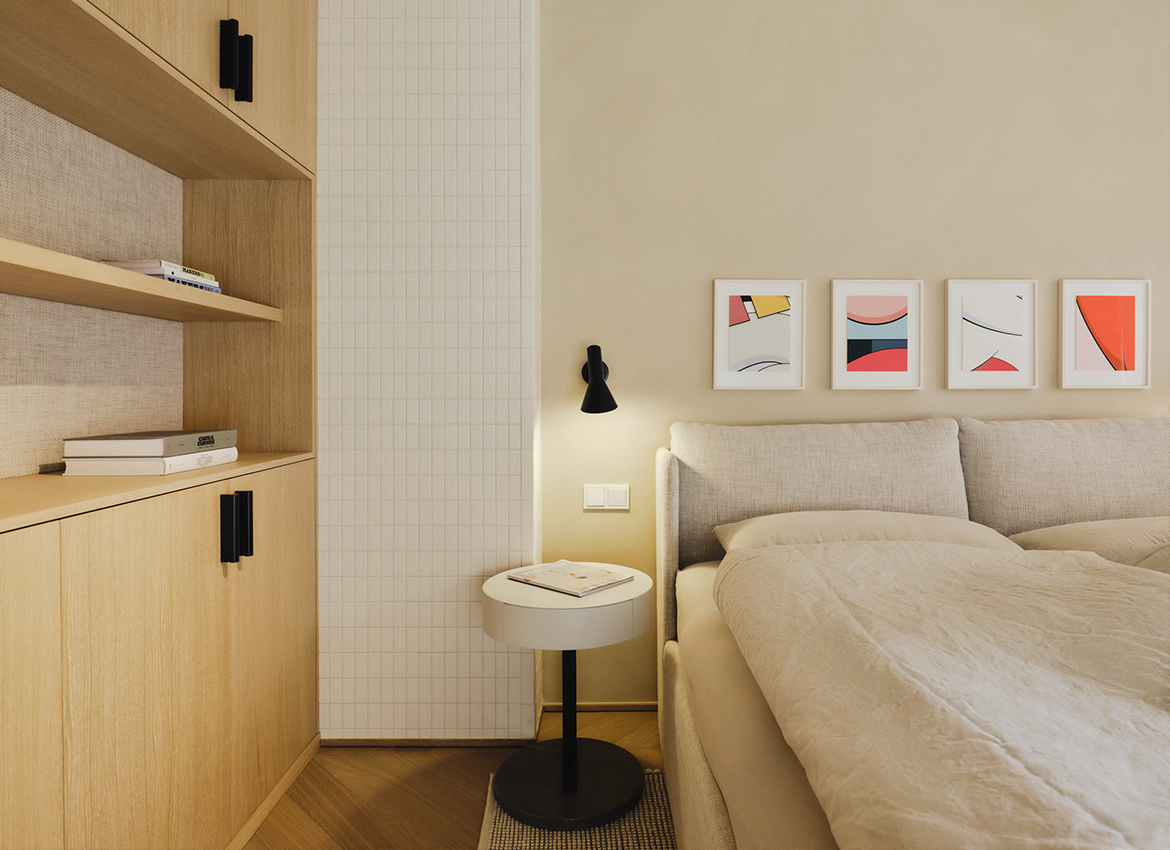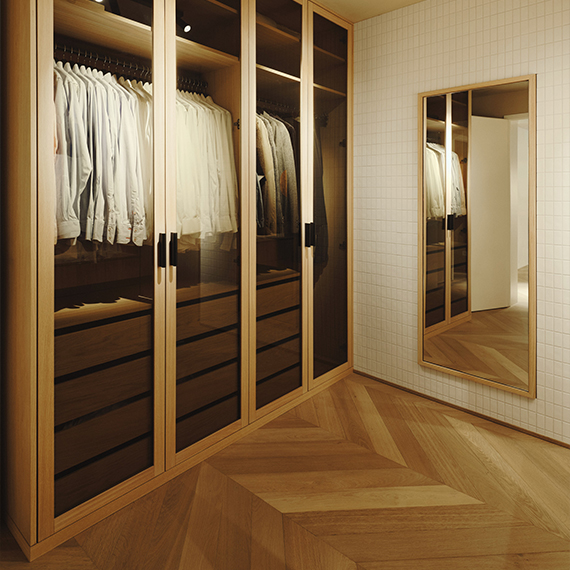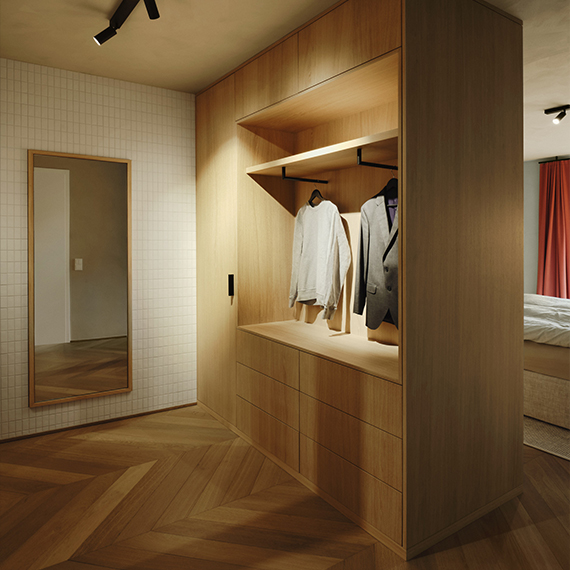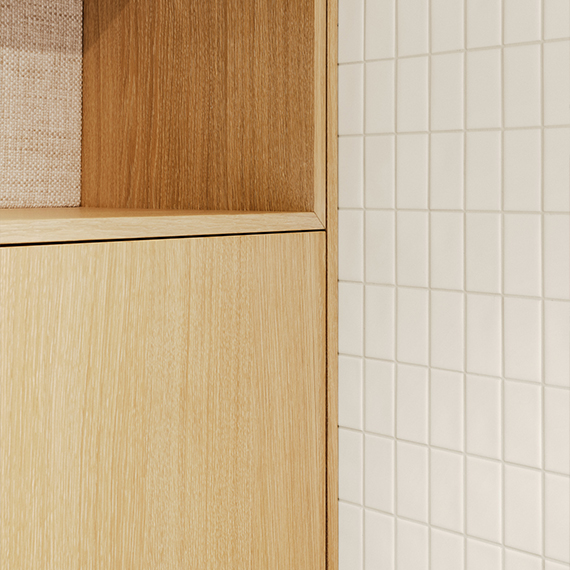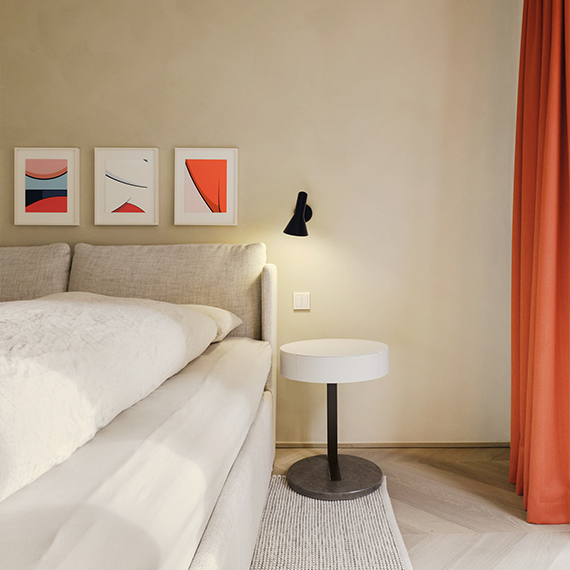 Material mix for minimalists
Never without tiles! The mix of materials is typical Thatenhorst, which is why light-colored copies (Mutina) find their way into the reduced bedroom as a matter of course. There they define the whitewashed built-in wardrobe area designed for the object. Fitted by a carpenter, this surprises with smoked glass fronts and points to the sleeping area with fabric coverings and storage. An understated layout – ideal for winding down in the upholstered bed and surrounded by (storage) nightstands (all Meridiani). And make rich color signals with art and drapery.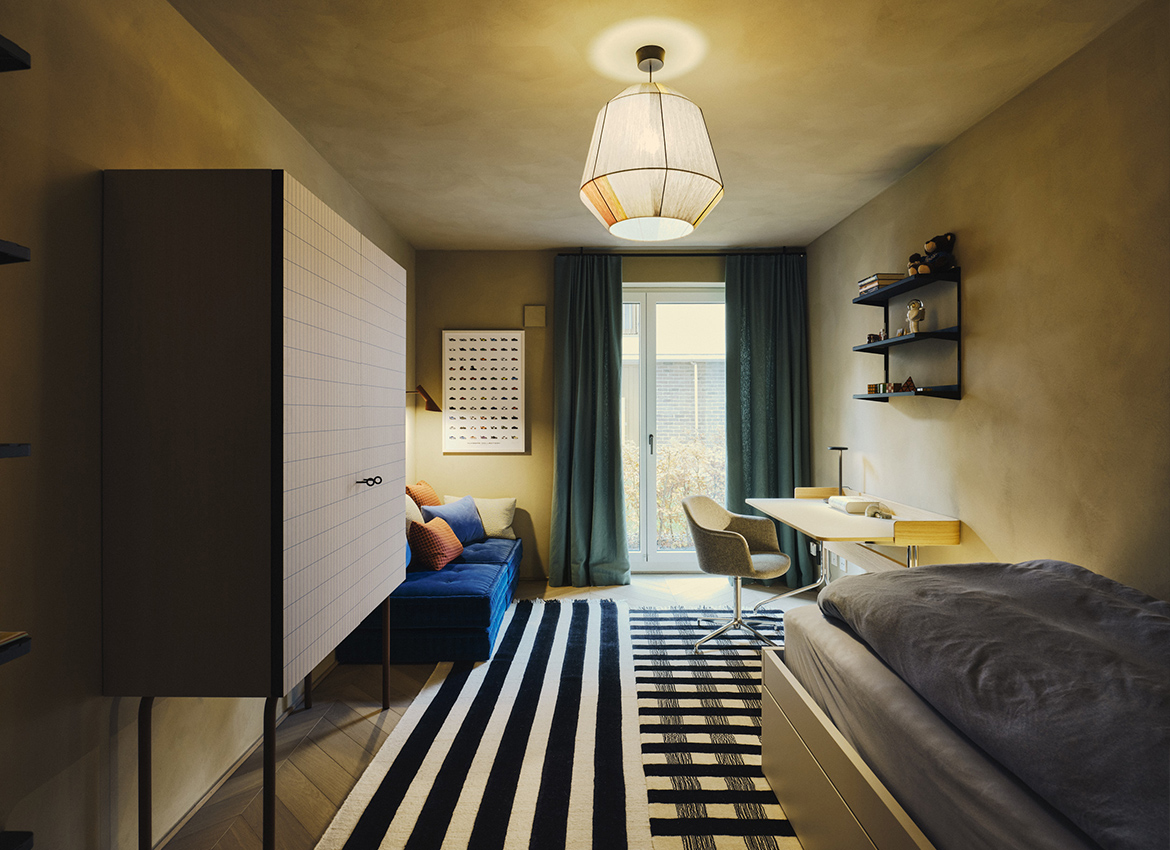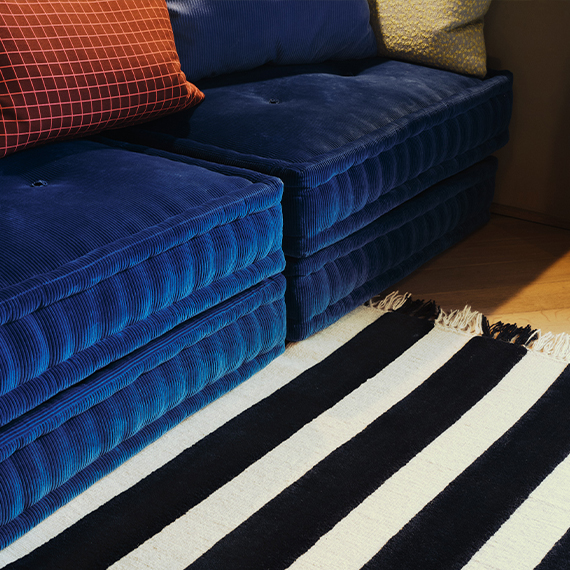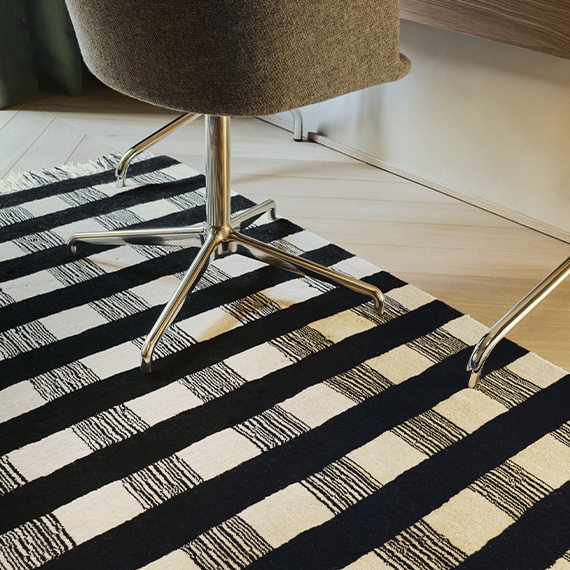 Playful in cool
The candy pendant lamp (HAY) floats like a loving motto over the playfully styled children's room. This is matched by the anything but petty carpet (Karpeta), which visually whispers "Anything is possible!". And unseen, behind the seemingly floating storage space (SEM Milano), the custom steel blue upholstered sofa invites you to relax. After schoolwork, sure. They take care of themselves in the restrained desk-chair combo (&tradition) as fast as never anyway!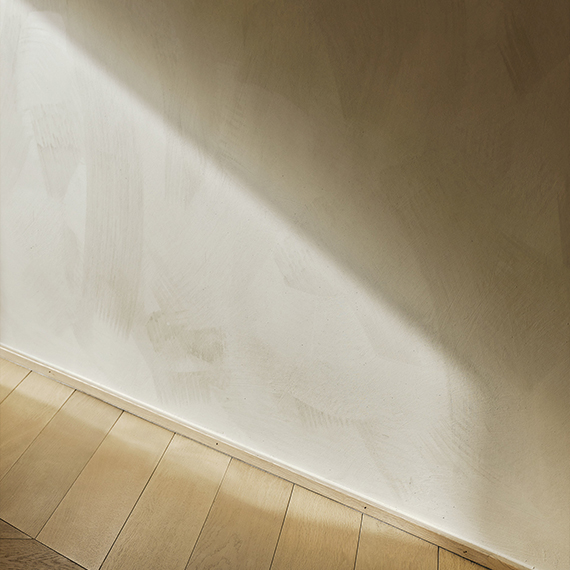 Less is more
A tribute on clay. At the same time, the clean bathrooms in the recently designed new building feel incomparably cozy thanks to wood and clay. Purist fixtures in matte black add a streamlined touch. Organically shaped countertop sinks arrange the discreet washbasins into the theme.
Fell in love with a product that is not listed?
Some of the products shown in the pictures are custom made for the object. You like a product which is not listed? Contact us, we will be happy to make individual pieces for you as well. We look forward to getting creative with you!
Contact