In the middle of Munich, Stephanie Thatenhorst has given a townhouse unagitated, artistic design appeal. And it's on five levels, held together by the exposed concrete exterior wall AND the illuminated oak staircase complete with state-of-the-art statement chandelier. The result is a powerful retreat in the city.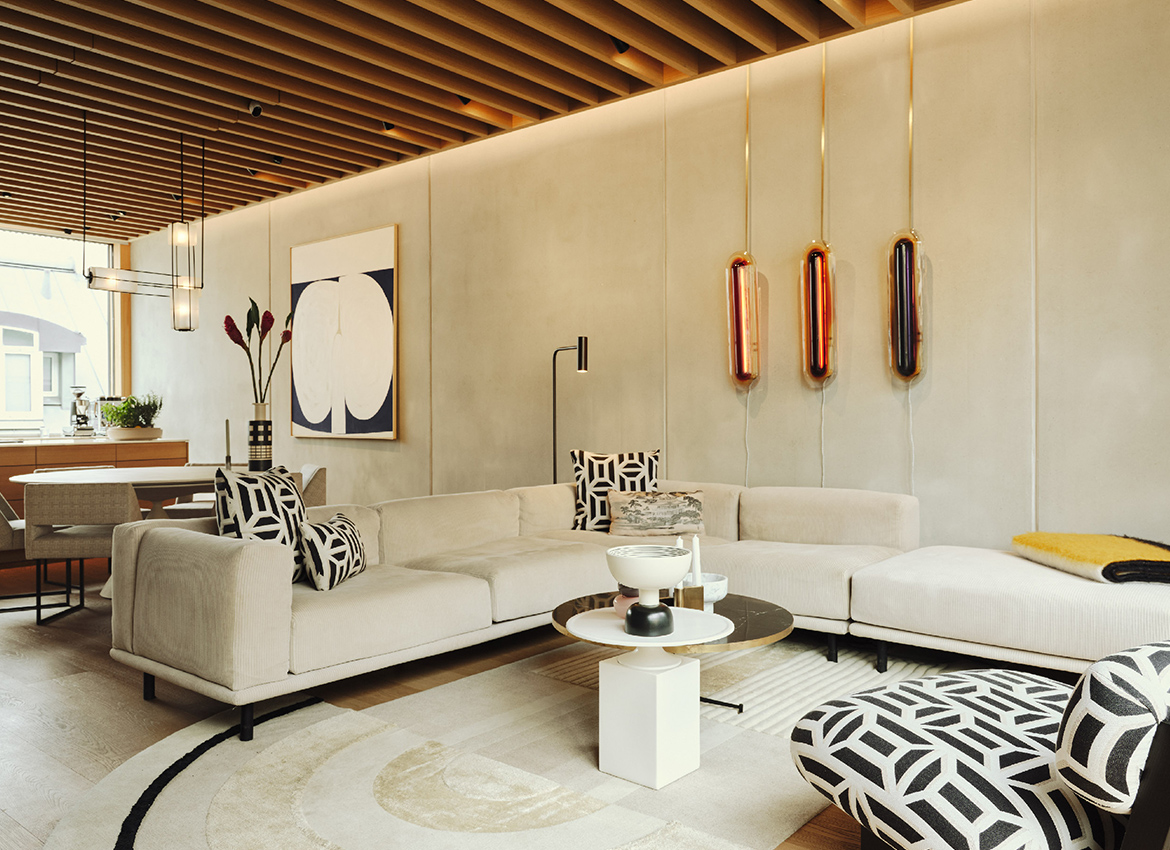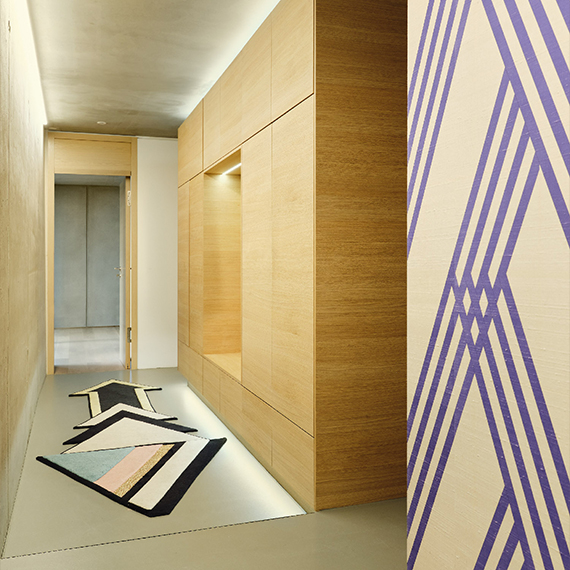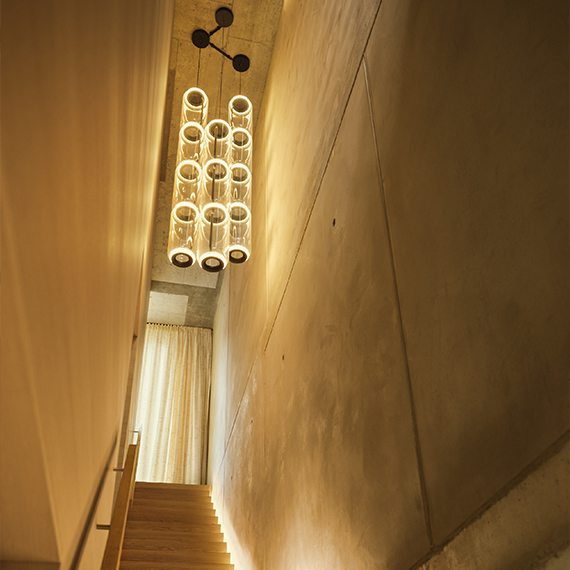 First impression
Nothing is more urban than a townhouse, or so people think. And rightly so, because its cozy levels make it the ideal retreat in the city. The entrance, with its restrained design, begins with statement accessories in the form of a shaped rug (cc-tapis) and wallpaper, offering a subtle foretaste of home. Framed by functional oak fixtures, their simple elegance runs throughout the home.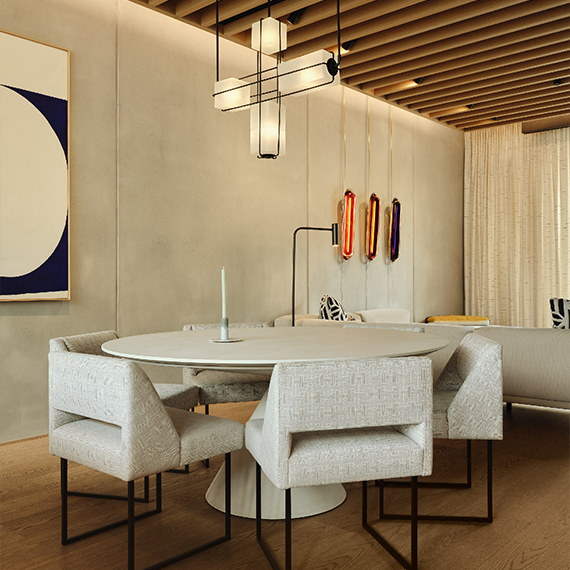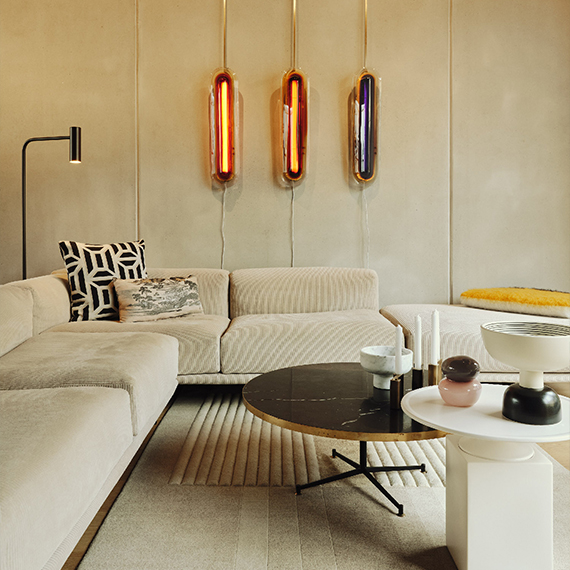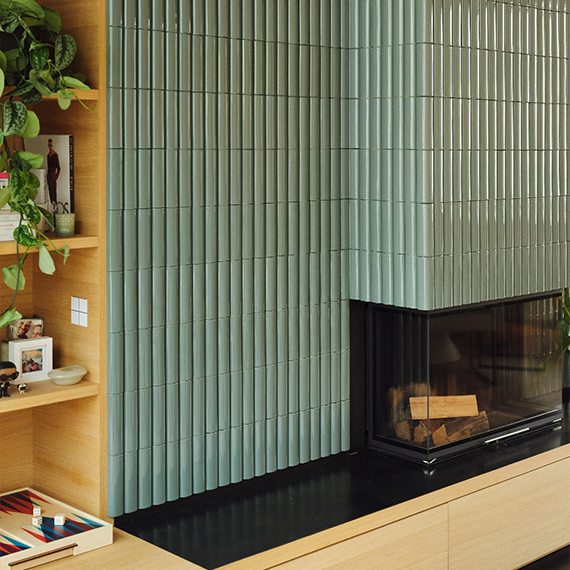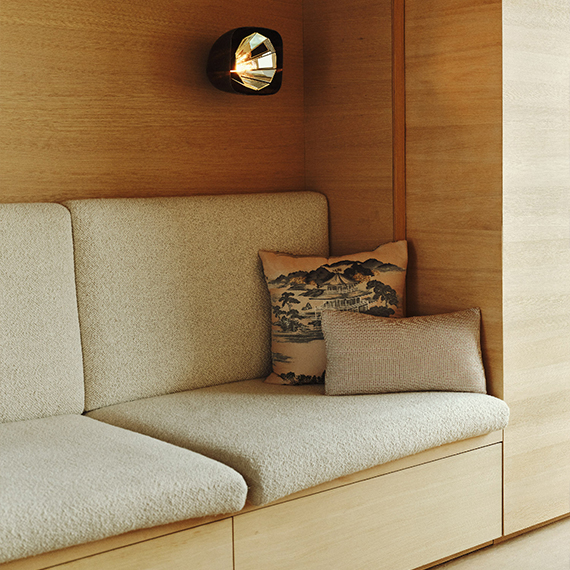 Bright living pleasure
You live where it is most flooded with light: on the second floor! There, Stephanie Thatenhorst has combined kitchen, living and dining into an unexciting happy place with a light color palette and a wooden ceiling. The cc-tapis rug defines the living zone with the Meridiani sofa – illuminated by wall sconces (Draga&Aurel) that function as art there. The sleek kitchen fixtures visually prioritize the dining area. And details, like the sage green tiled fireplace plus the bench seat in the custom built-ins add coziness.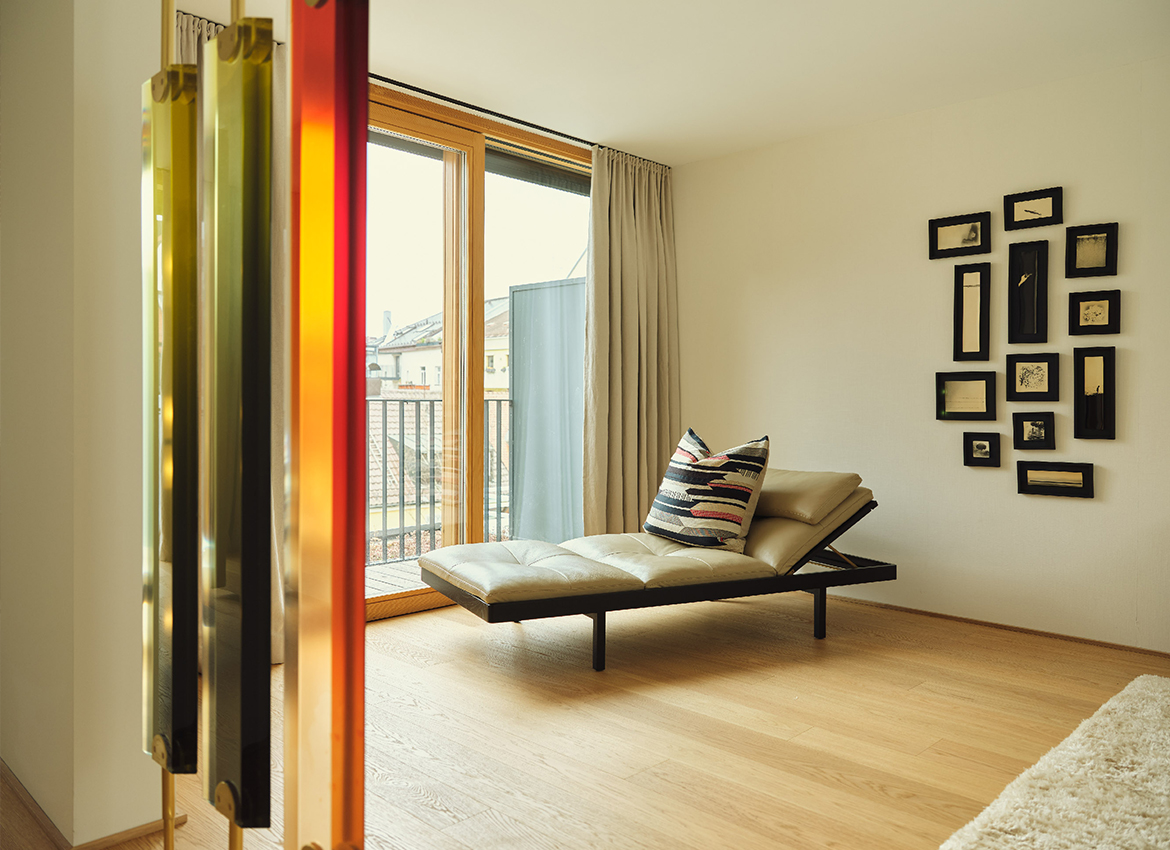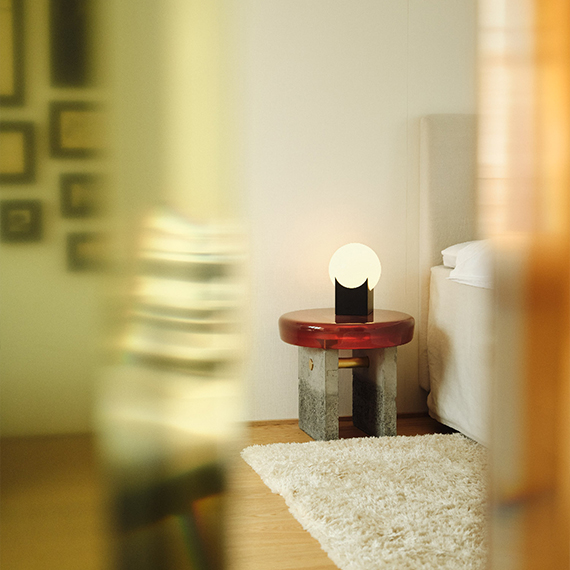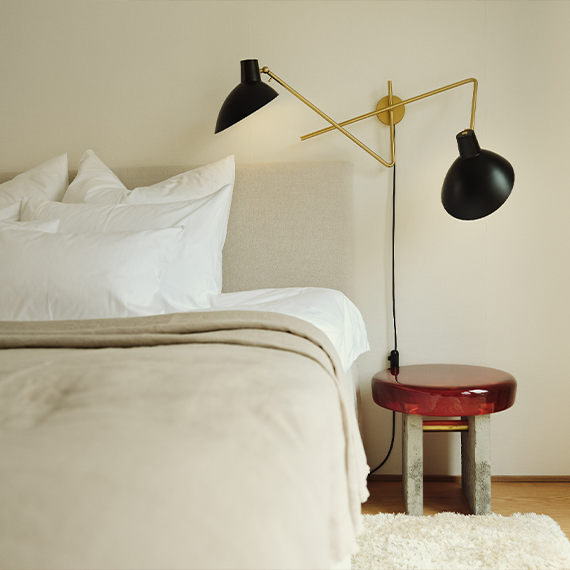 Soft Design
On the third floor, under the private roof terrace, is the master bedroom of the Townhouse. As throughout the building, the interior in natural and non-colors leaves room for sculptural details by Draga&Aurel. The Daybed (BassamFellows) forms a design liaison with the iconic ST Collection pillow. And the bed slips into the leading role with luminous supporting actors (Astep).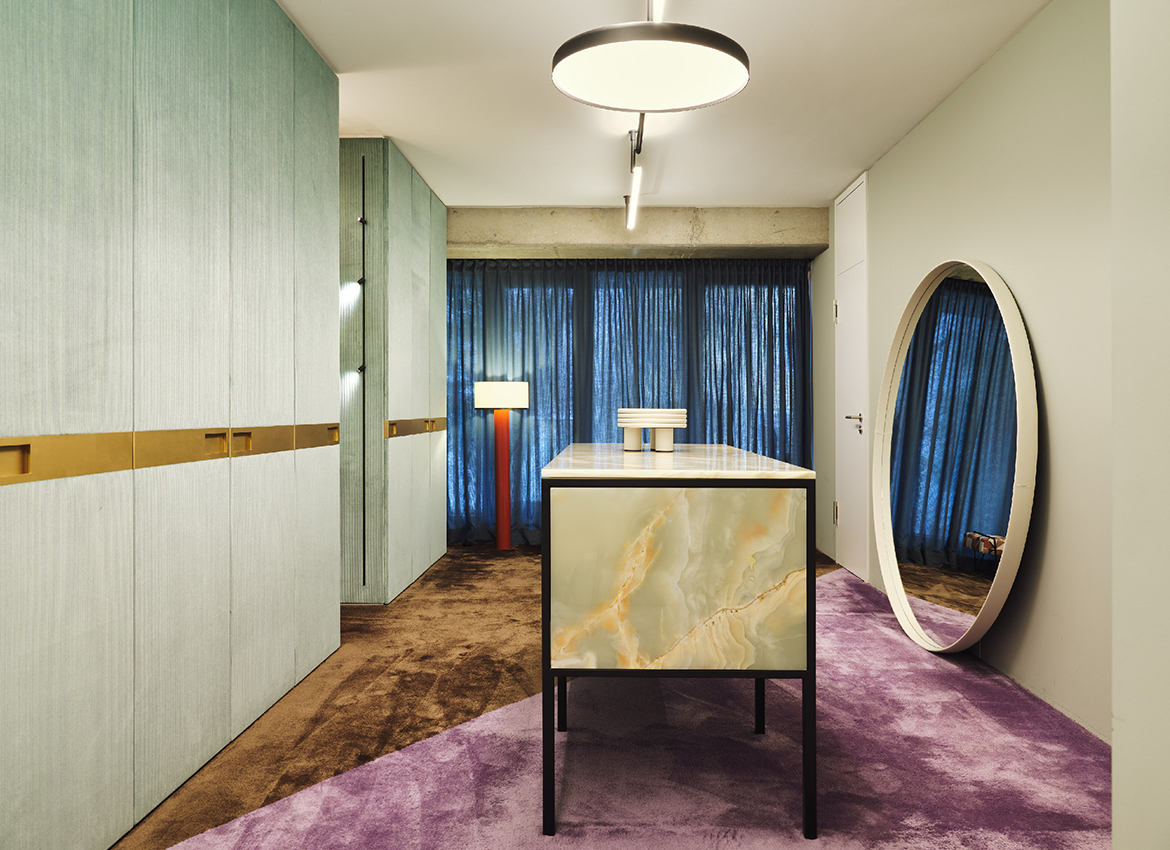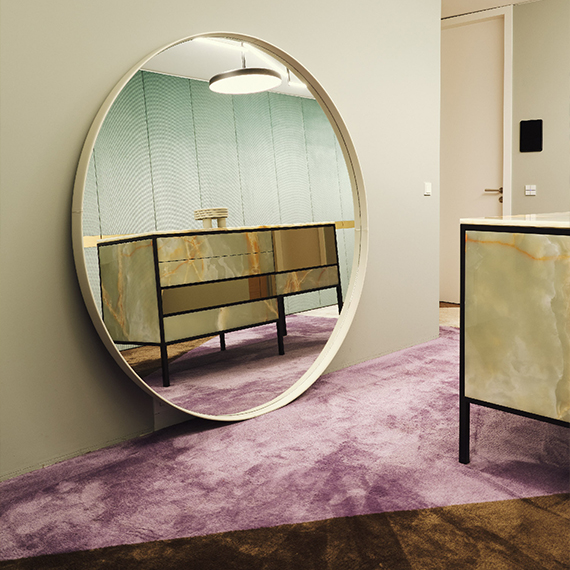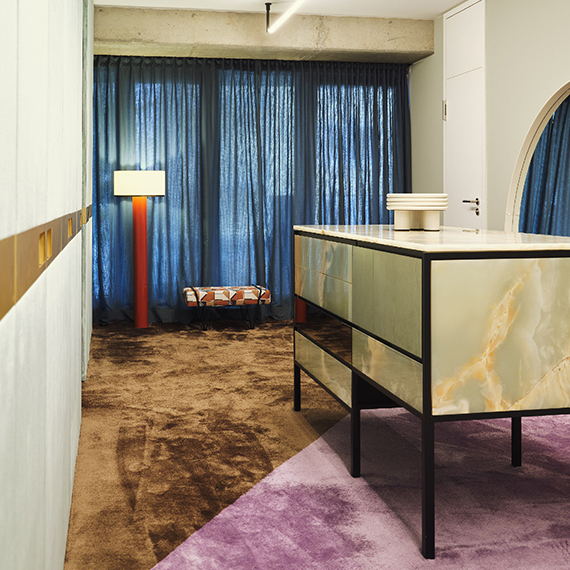 Fashion forward
Stephanie Thatenhorst was quite eccentric in the dressing room. The cord-velvet-covered cabinet forms the centerpiece of the room with the marble storage centerpiece. The high pile carpet creates intimacy while styling and the modern ceiling spotlights (FLOS) put it all in perspective.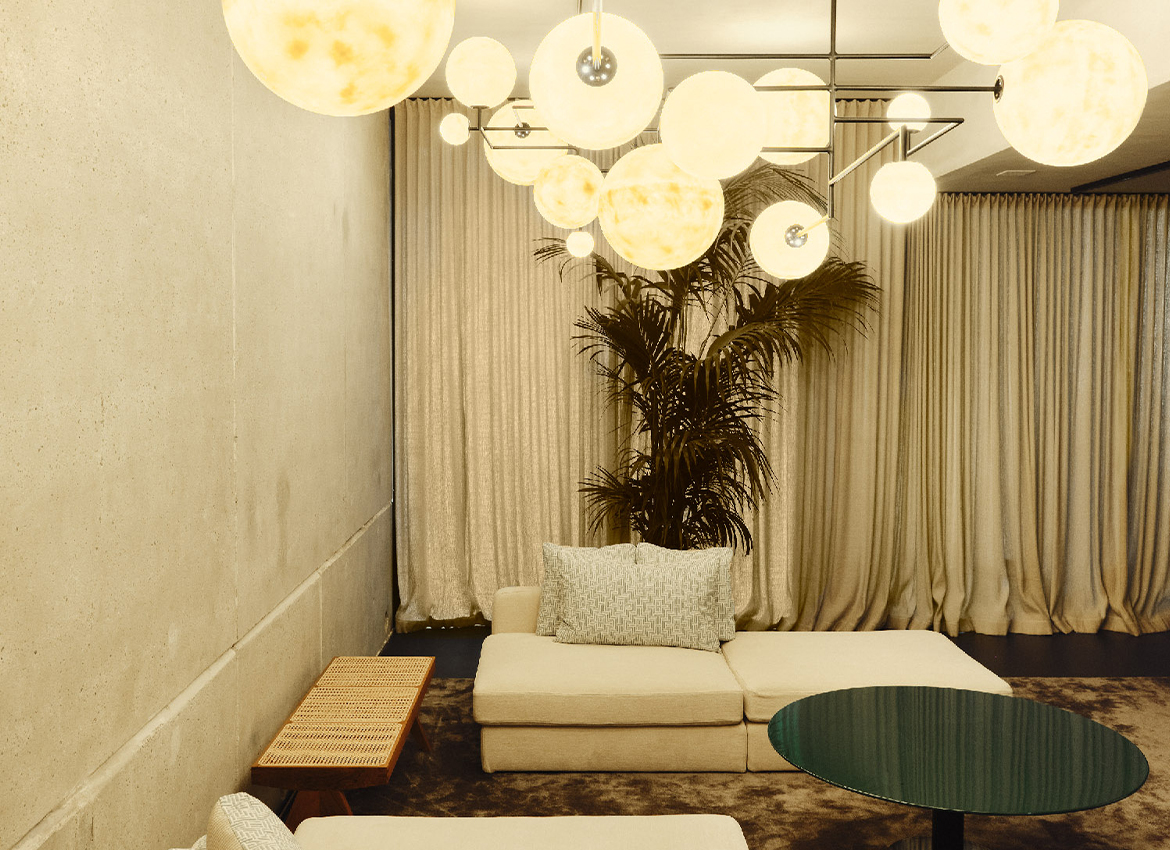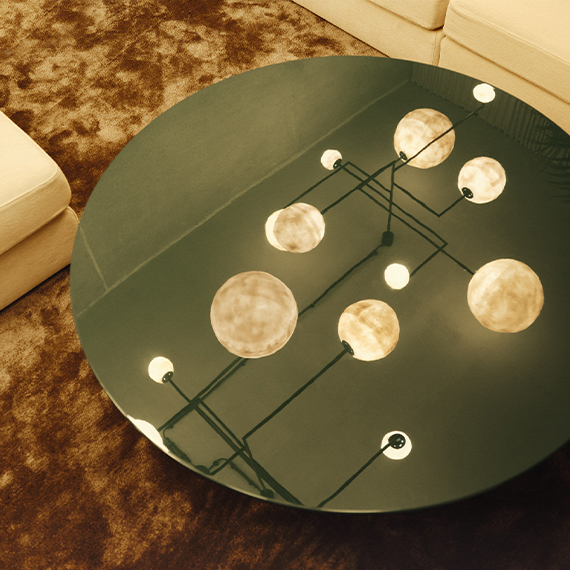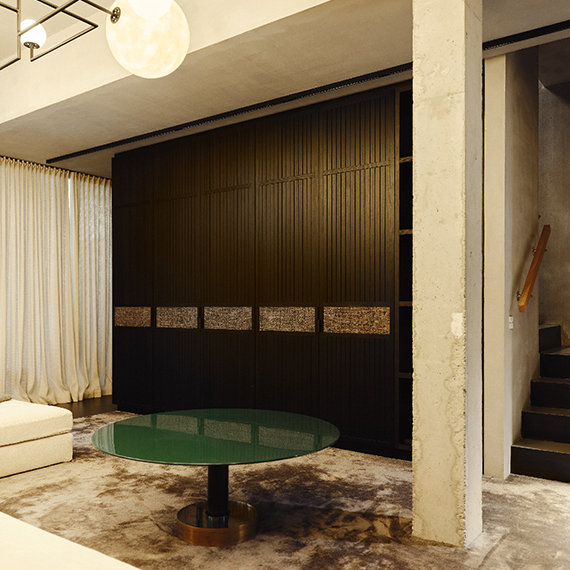 It doesn't get any more private than this
A private spa is the ultimate and, like the home as a whole, it has to completely match the residents' sense of style. That's why the downstairs hideaway follows the tried-and-true understatement color code of off-white in combination with toffee and dark wood tones. Finished is the over-relaxing lounge area with soothing moonlight (DimoreMilano), which the deliberate concrete architecture gives modern coolness.
Fell in love with a product that is not listed?
Some of the products shown in the pictures are custom made for the object. You like a product that is not listed? Contact us, we will be happy to make individual pieces for you as well. We look forward to getting creative with you!
Contact