Feminine Balance in Schwabing
If you have long wanted to know how Stephanie Thatenhorst lives privately with her family, we now reveal the secret! Between AD Stilschule, Office Reopening and the many residential projects, the interior designer showed us her light-flooded Schwabing Altbau apartment. Bold color combos and textures to touch included, of course!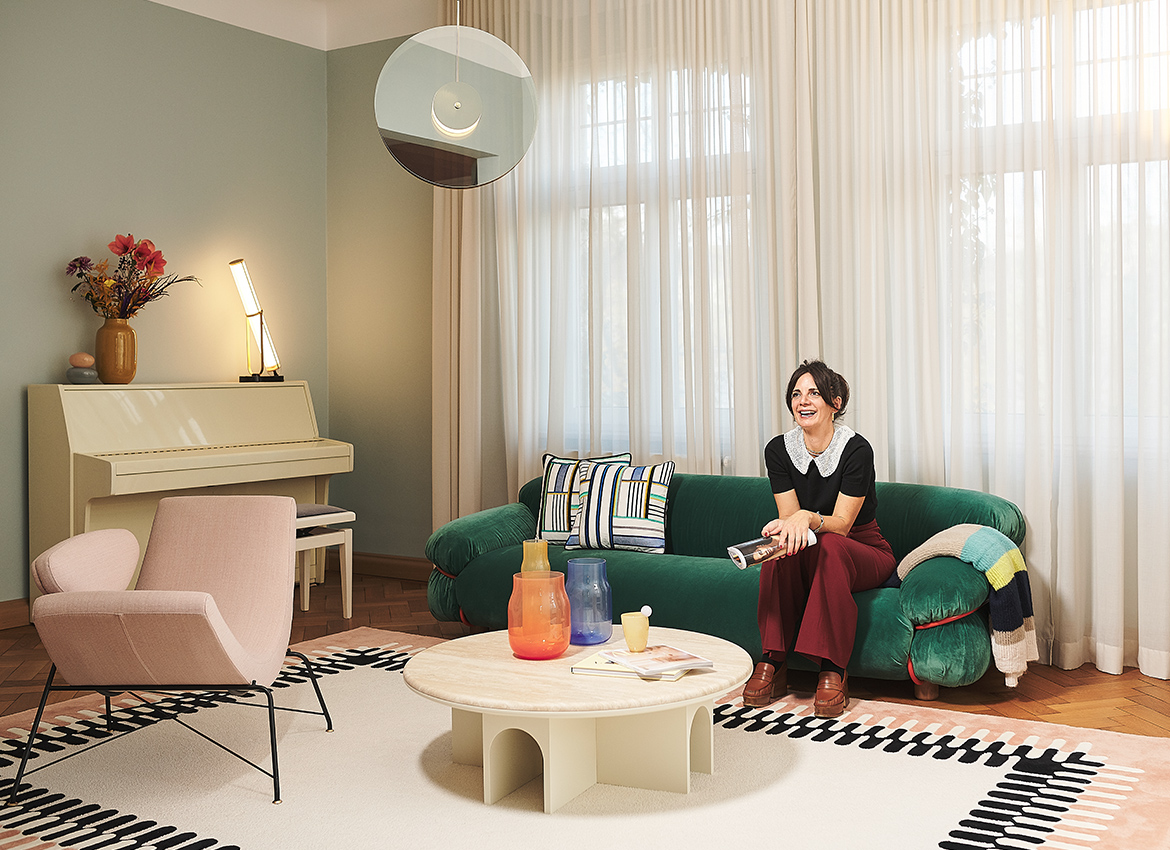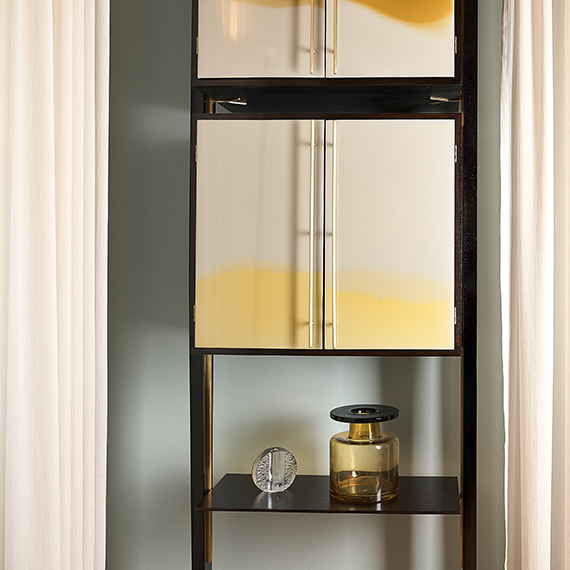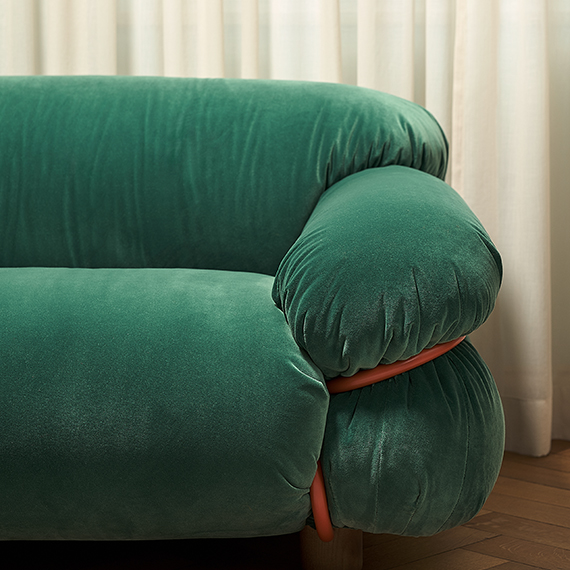 Color over forms
Stephanie Thatenhorst is known for bringing color, form and pattern into harmony. It's clear that her new Munich home tells about it. Transparent curtains bathe the living room with herringbone parquet and high stucco ceiling in soft light. The layout of emerald green velvet sofa (Tacchini), travertine coffee table (Arflex) and pastel armchair is framed by the statement carpet. Graphic patterns on pillows (Pierre Frey) and plaid and the contrasting wall color add texture to the setting. The only things missing are personal sidekicks in the form of son Jonny's piano and the Draga Aurel shelf!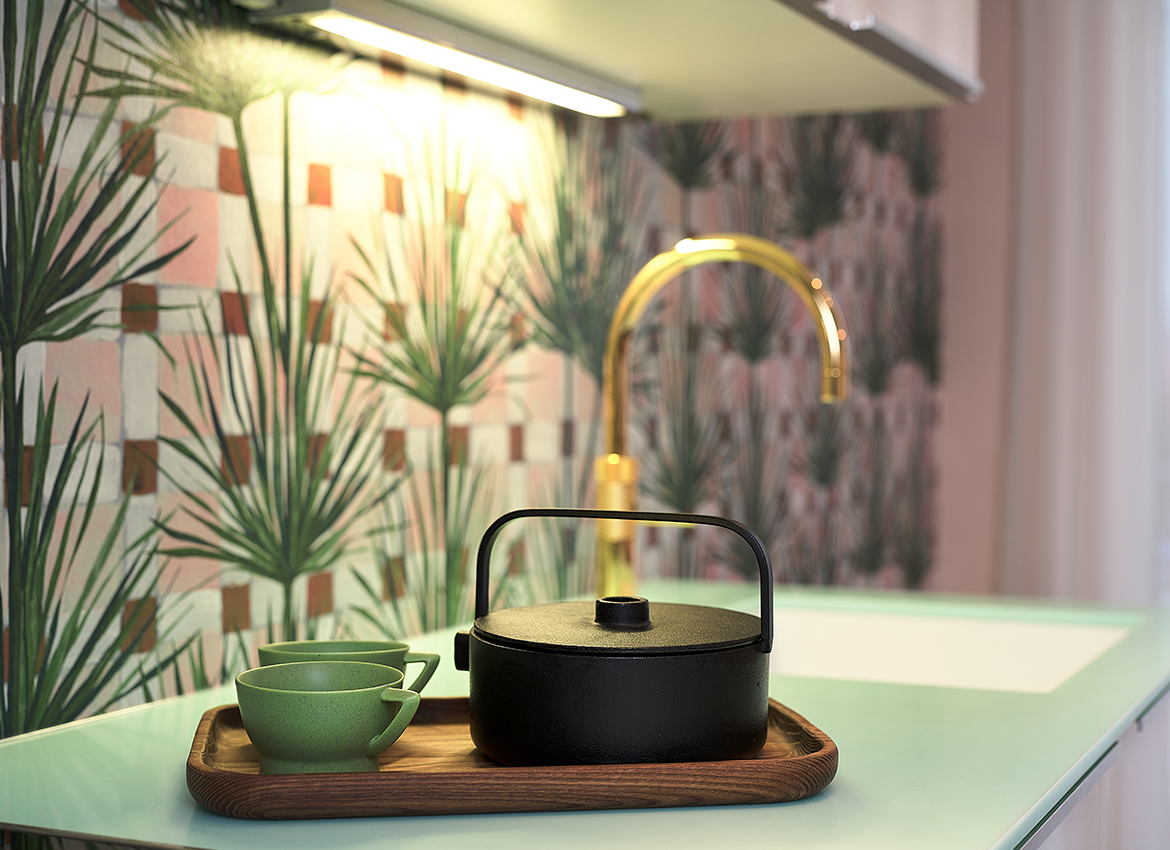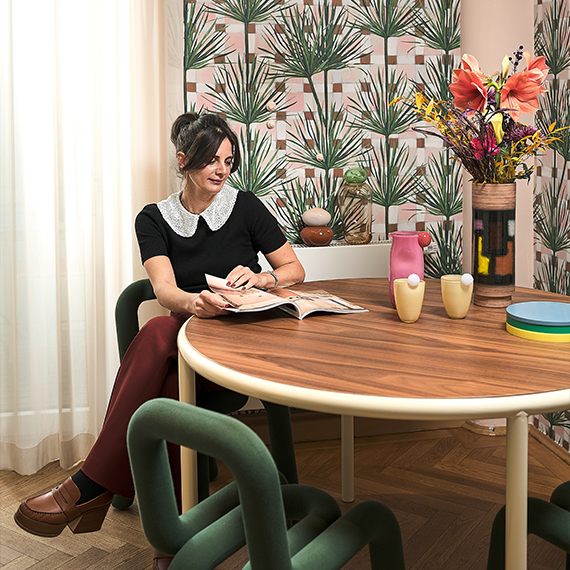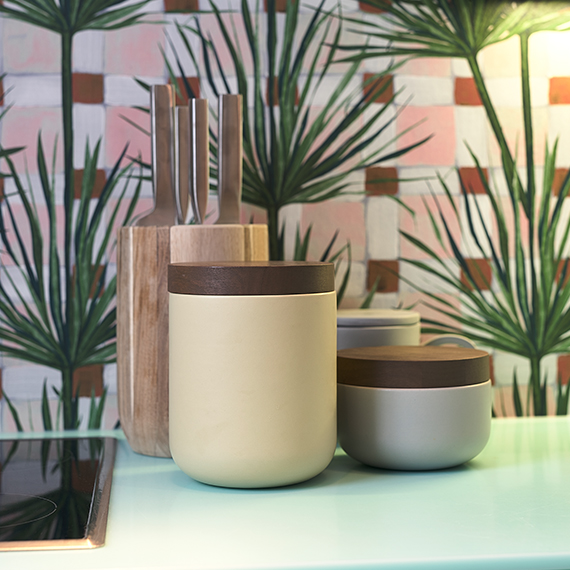 Grouped opposites
"My favorite piece is the Pierre Frey wallpaper in the kitchen," reveals Stephanie Thatenhorst, who uses this hand-painted stylistic device, which features succulents on rust-red and rose-colored tiles, to connect the functional kitchen with the dining area. The mix of ultra-graphic upholstered chairs (Moustache), round dining table (Valerie Objects) and delicate arc lamp transports us to the present. And the grouped vases in the confectionery look (Helle Mardahl) visually act as a foretaste of the culinary.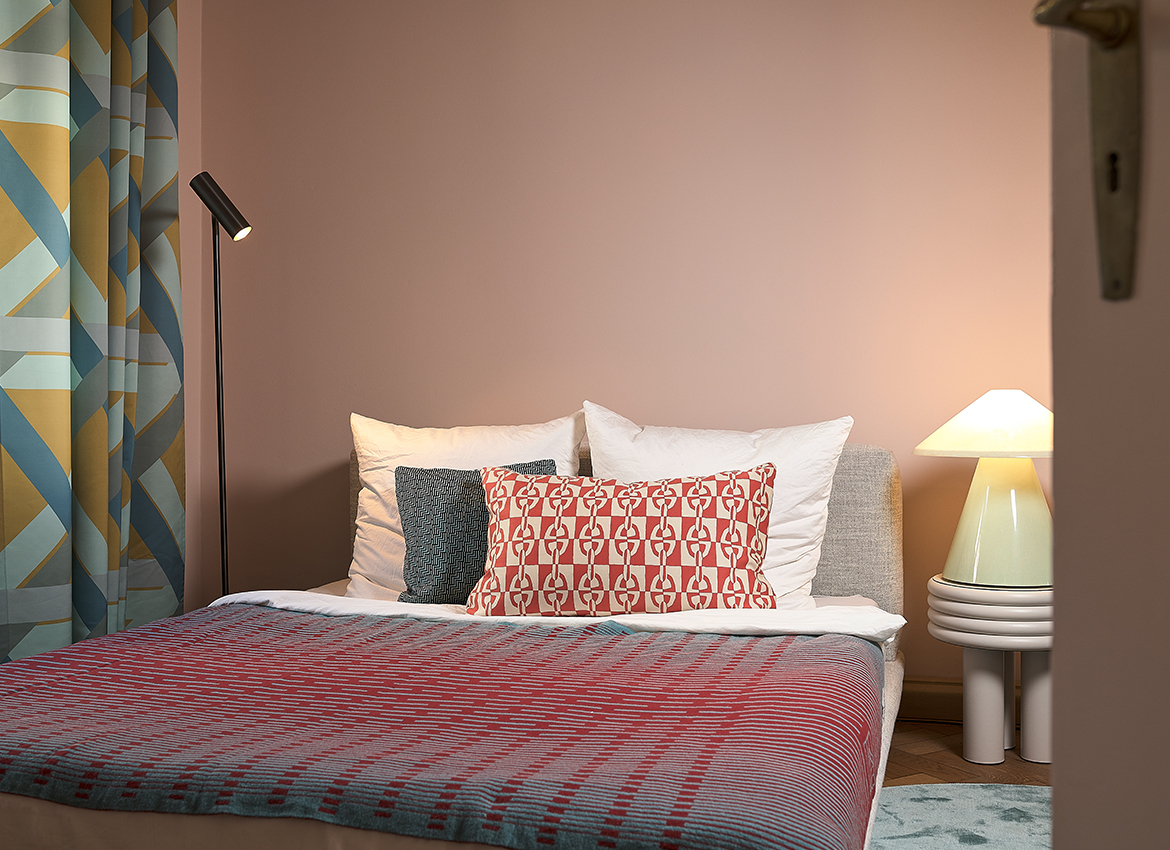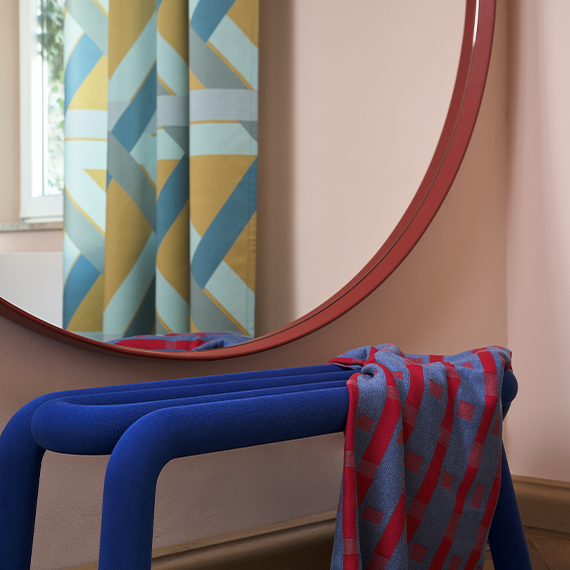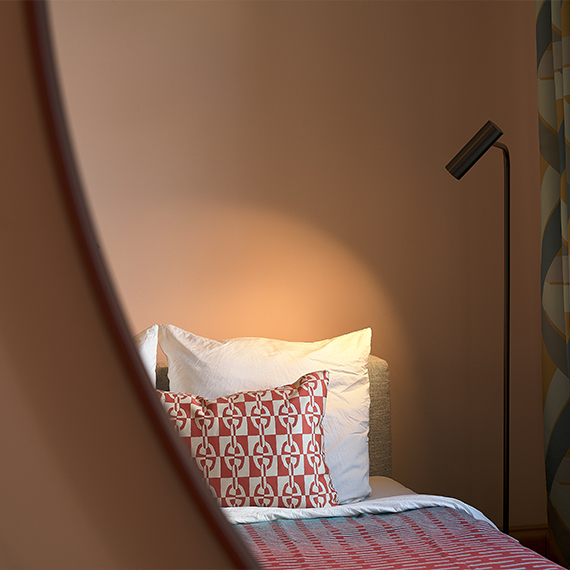 Midcentury Magic
Due to her penchant for strong colors and exciting shapes, midcentury styles have long been synonymous for Stephanie Thatenhorst's signature look. No wonder graphic designs on curtains, pillows (ST Collection) and plaids set the tone in the bedroom. Different lights create soothing asymmetry, while the classic bed bench (Moustache) not only comes up in the extension, but also as a highly modern interpretation that adds freshness to the room.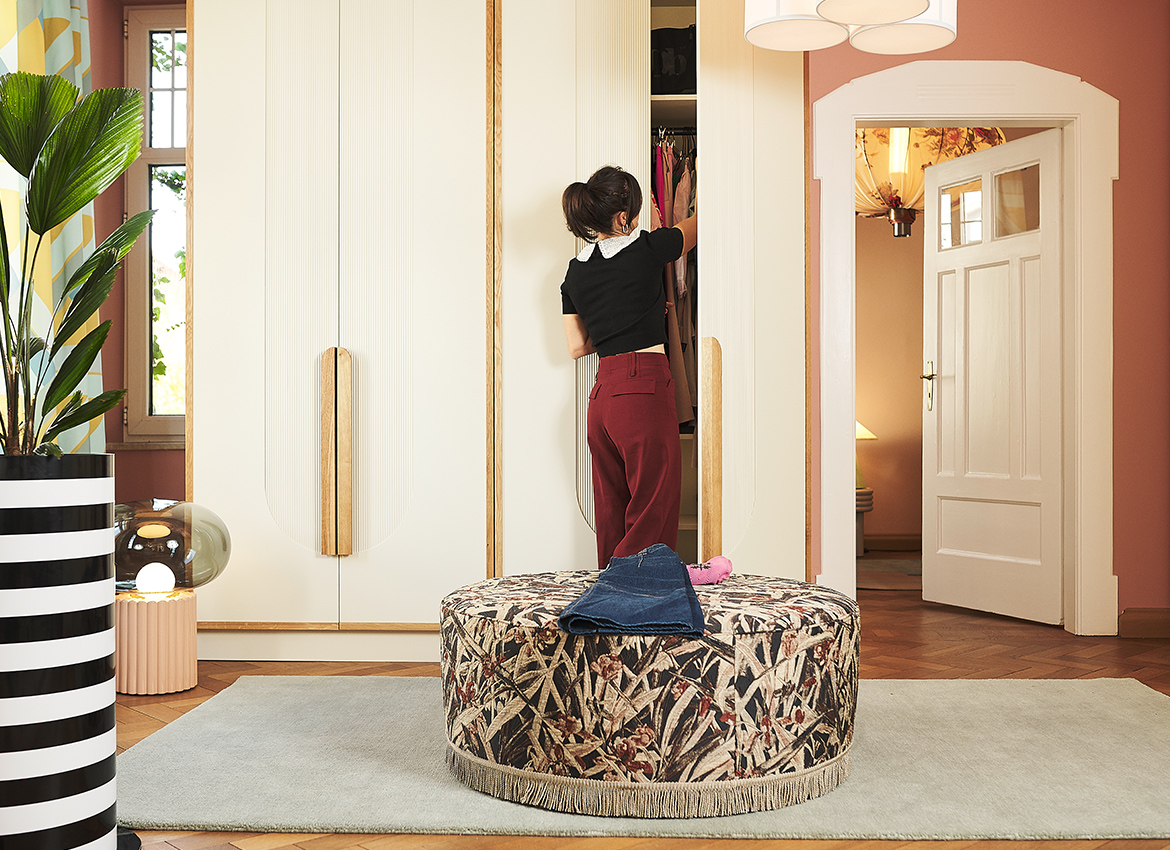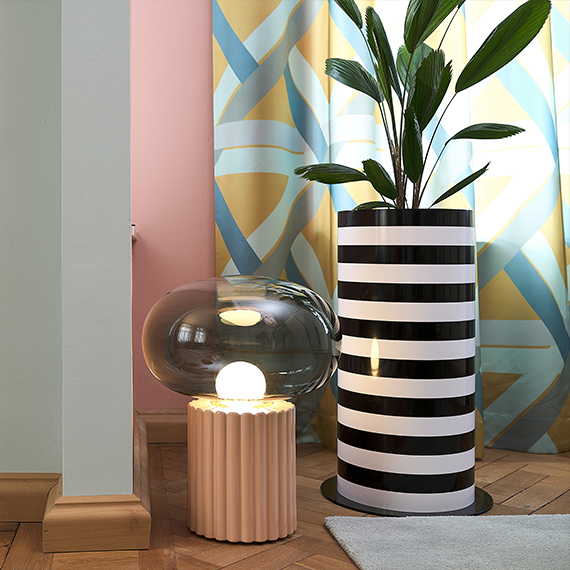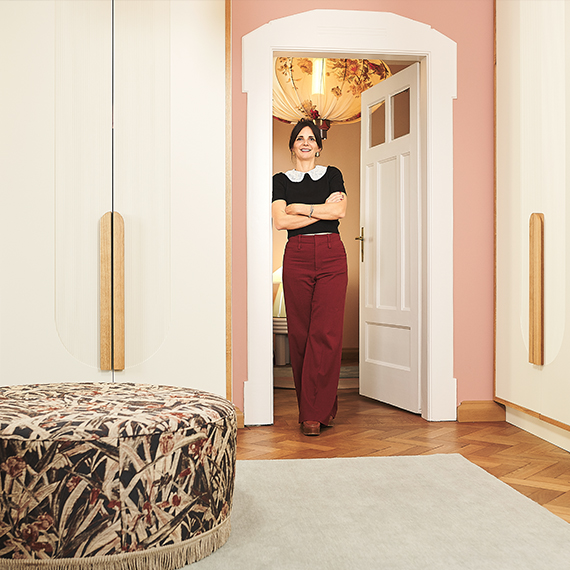 A Haptic Heaven
The feminine silk lamp (DimoreMilano) already gives a taste of the dressing room in the bedroom. Wooden fixtures in a white-natural slatted look provide ample storage and let the room breathe. Perfect to make the mega-modern interpreted boudoir scene with XL pouf (Gubi with DimoreMilano fabric), fluffy carpet and floor lamp look. A dream in power pastel.==
Fell in love with a product that is not listed?
Some of the products shown in the pictures are custom made for the object. You like a product that is not listed? Contact us, we will be happy to make individual pieces for you as well. We look forward to getting creative with you!
Contact