An eye catcher in the literal sense
When an optician like Bartels unearths the latest eyewear trends, the interior has to follow suit. True to the motto what you see is what you get, exciting splashes of color in the form of carpets, room dividers and design classics in the Aschaffenburg center provide a view with a cozy design appeal.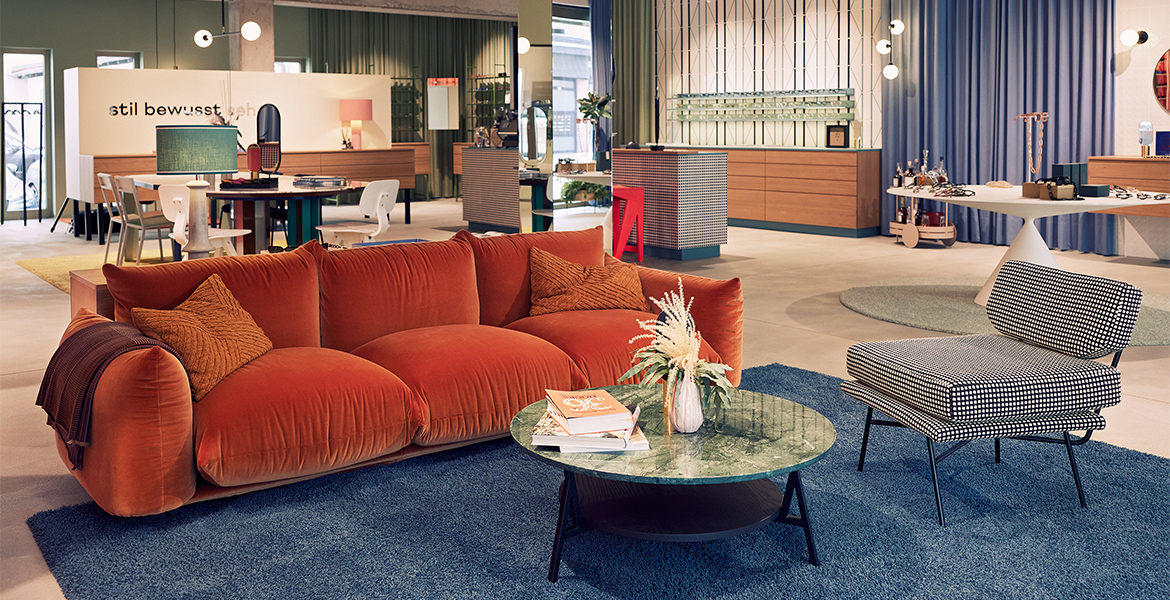 Withgraphically patterned wall tiles and colors, Stephanie Thatenhorst lets our eyes wander over living zones that are familiar to us. Already at the entrance you can browse at the semi-formal round table Clay (Desalto). Then lingered comfortably in the lounge. Textiles, for example in the form of floor-to-ceiling curtains, have a beneficial effect on acoustics. And the complementary styling of rust-red Marenco sofa (Arflex) and blue high-pile carpet becomes a happening for aesthetes. Other Arflex statements such as marble coffee table Cradle or armchair Elettra provide midcentury vibes.
"I wanted to create individual worlds that emulate a home. So the store is divided into different "living areas" where customers are advised in a cozy atmosphere."
==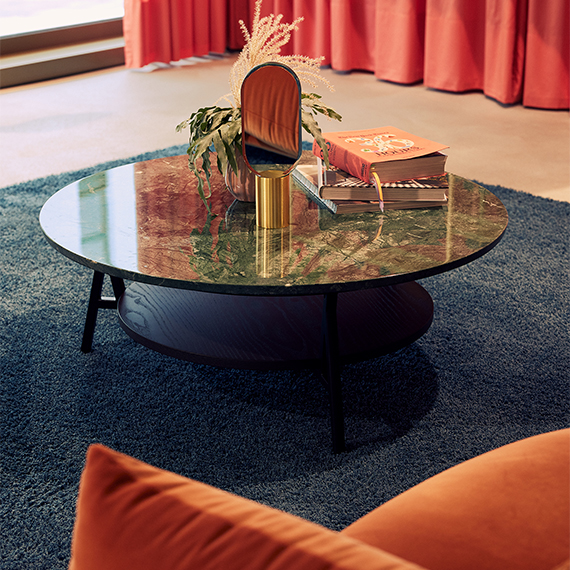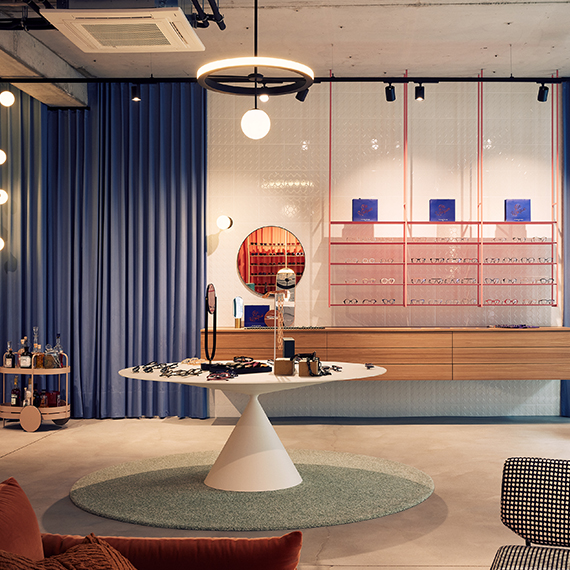 New perspectives
Simple metal shelves unagitatedly put glasses in the limelight, while the linear sideboards not only offer further storage space, but also space for handcrafted pieces, such as the handmade Servomuto table lamp made of cement with textile shade. The latter provides homely islands of light and optimally contrasts indispensable light strips as well as exposed concrete ceiling and floor.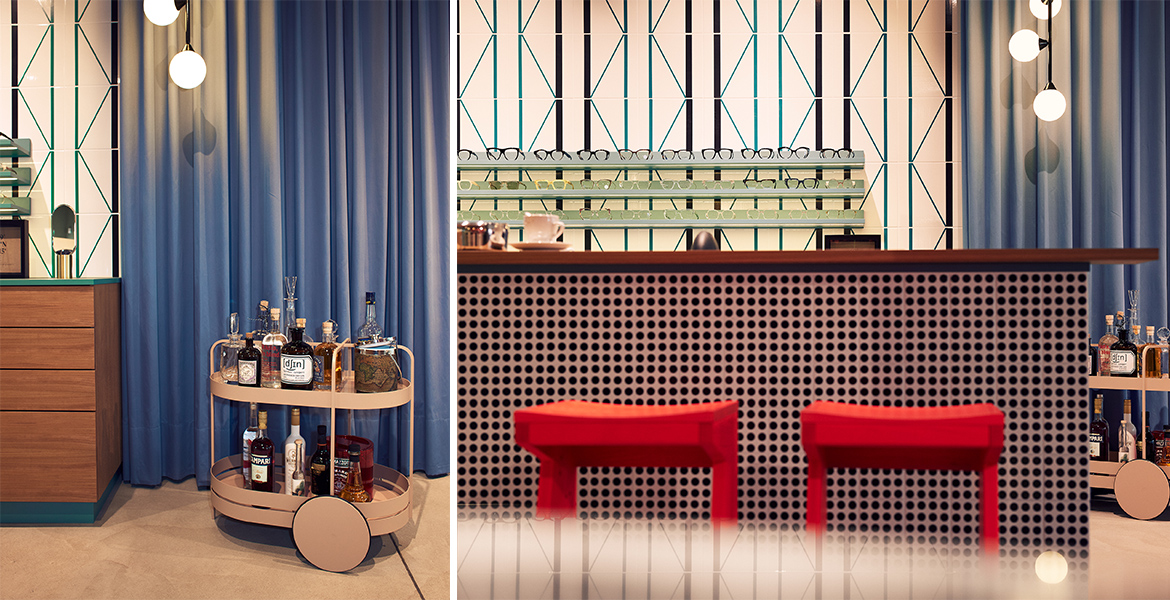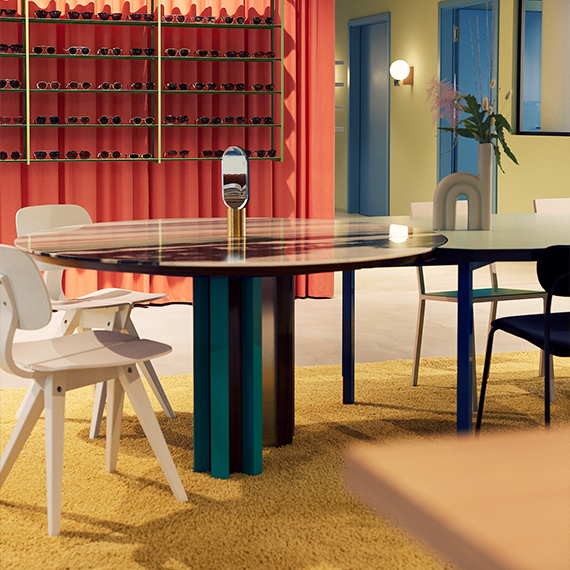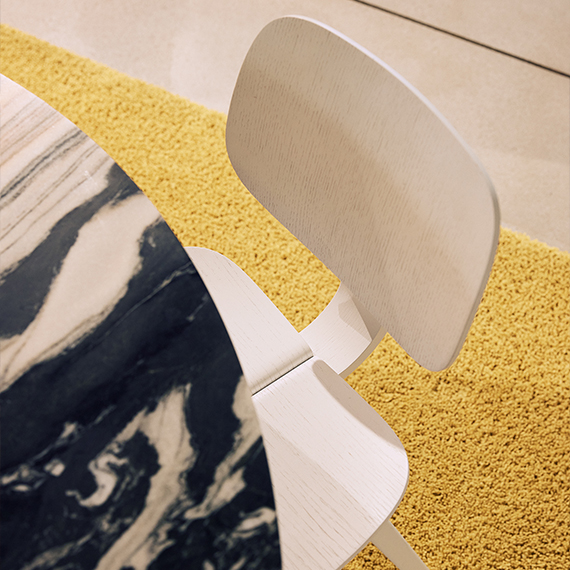 Feel-good factor coffee bar
Stephanie Thatenhorst has planned the perfect stopover between selecting and trying on glasses with the kitchen counter and coffee machine. Interior must-haves like the Grace serving cart by product designer Sebastian Herkner (Schönbuch) highlightes the sense of style. And depending on your preference, the iconic Schulz bar stools in neon red at the counter or the legendary Mosquito Chairs (Rex Kralj) at the asymmetrical, long table provide relaxing moments.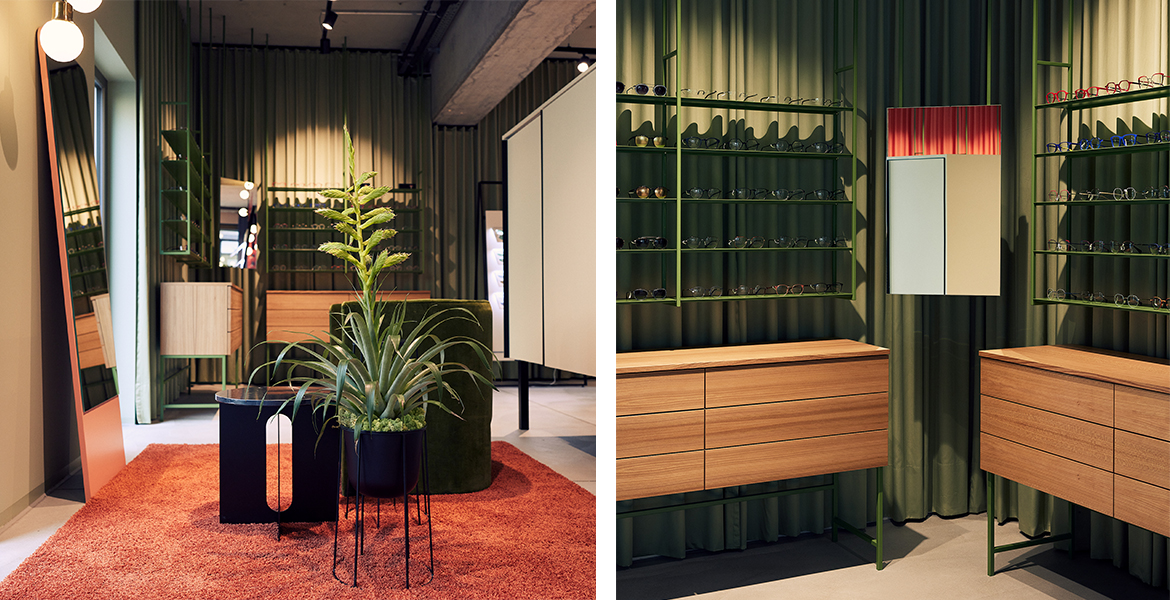 Ultimate pleased
For the grand finale, Stephanie Thatenhorst mixes deep green tones with rich red. The liaison of Bauhaus-inspired lamp Two Spheres (Atelier Areti) and the ultra-comfortable lounge chair Loafer SC23 (&Tradition) provides the setting for the final fitting. It goes without saying that mirrors, such as the wall-mounted Friedrich (Objekte unserer Tage), together with other cleverly hung or placed models in the Art Deco look, help the customer to look at things almost as a matter of course.==